Training courses progress
The training course is planned for 5 days corresponding to a 39-hour training for at least 6 persons.
The progress is determined « à la carte » according to the trainees' standard.
The training course can be cancelled if the number of registrations is not sufficient.
Place of the training course
STE COOPERATIVE AGRICOLE DE VANNERIE
1 rue de la Cheneillère
37190 VILLAINES LES ROCHERS
Phone. +33(0)2 47 45 43 03 – Fax +33(0)2 47 45 27 48
Schedule : 8.30 am – 12 pm – 1.30 pm – 6pm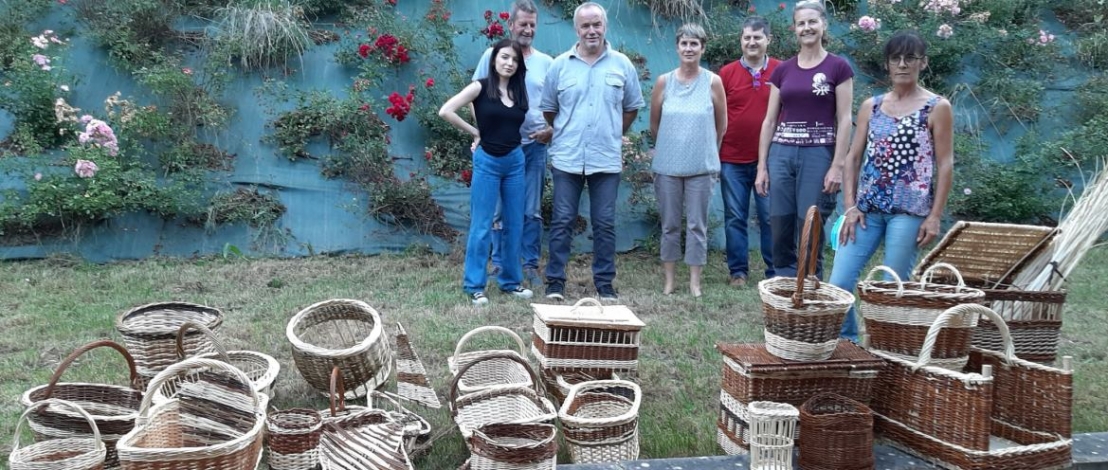 Terms of payment
Trainees per session: 6.
The training course rate is 430 euros, inclusive of tax, for 5 days, wicker included.
The trainees financing themselves their training would have to pay a guarantee of 215 euros when sending the registration; this sum will be deducted at the end of the training, from the final payment.
In case of unjustified cancellation which could not be postponed later, this guarantee would not be refunded
The training price can be taken in charge by the employers on their training bond (1.50%).
Thoses costs do not include the expenses of accommodation and of catering.
To register, you may click on the files below :
To complete your registration, please send us the completed registration form and survey, along with your down payment.
Accomodations and catering
At Villaines-Les-Rochers you can also find:
A shaded picnic area
A camper area
A Post Office
A camping
The Cooperative offers trainees a kitchen with a microwave and a refrigerator
Further information at the town hall, Place de l'Eglise
Phone : +33(0)2 47 45 43 08 – Fax : +33(0)2 47 45 48 65
from 14th to February, 18th 2022 : COMPLETE
from 14th to March, 18th 2022 : COMPLETE
from 11th to April, 15th 2022 : COMPLETE
from 25th to April, 29th 2022 : : COMPLETE
from 16th to May, 20th 2022 : COMPLETE
from 13th to June, 17th 2022 : COMPLETE
from 20th to, June 24th 2022 : COMPLETE
from 4th to July, 8th 2022 : COMPLETE
from 25th to July, 29th 2022 : COMPLETE
from 1st to August, 5th 2022 : COMPLETE
from 5th to September, 9th 2022 : COMPLETE
from 12th to September, 16th 2022 : COMPLETE
from 17th to October, 21th 2022 : COMPLETE
from 14th to November, 18th 2022 : COMPLETE
from 21th, to November, 25th 2022 : COMPLETE
STAGES A THÈME sur 3 jours
Effectif par session : 6 stagiaires.
Les frais de stage s'élèvent à 260 euros TTC pour les 3 jours en 2021 et 270 euros TTC pour 2022, fourniture d'osier comprise.
Les stagiaires finançant eux-mêmes leur formation devront s'acquitter d'un acompte d'un montant de 130 euros pour 2021 (135 euros pour 2022)  à l'envoi de l'inscription ; cette somme sera déduite lors du règlement définitif suite à la participation au stage.
Il est aussi précisé qu'en cas de désistement non justifié et ne pouvant pas faire l'objet d'un remplacement, cet acompte ne sera pas reversé.
Le coût de cette formation pourra être imputé par les employeurs sur leur obligation de formation (1.50%)
Ces frais ne comprennent pas le coût de l'hébergement et de la restauration.
Attention : les stages à thèmes s'adressent à un public ayant déjà pratiqué la vannerie. Inaccessible aux débutants.
Pour vous inscrire, un dossier complet est mis à votre disposition en cliquant sur les liens suivants : 
du 02 au 04 Mars 2022 : Vanneries extérieures
du 01 au 03 Juin 2022 : Vanneries périgourdines
du 29 Juin au 01 Juillet 2022 : Vanneries à jour
du 24 au 26 Août 2022 : Vanneries sur arceaux